About Us
Kim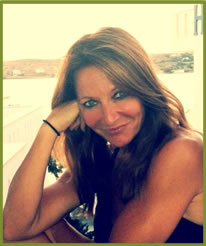 Mother of two children, business graduate, and avid world traveller. Kim's background includes investment banking, and corporate training worldwide. She is certified by CanFit Pro as a Personal Trainer, Nutrition Specialist and Weight Loss Specialist. She also is licensed by the Ontario Soccer Association to coach children's, youth and adult soccer. She has been coaching for the last seven years, and has also been providing advanced development programs for youth ages 4 to 19.
Kim's interest in party planning dates back 23 years, when she started putting together corporate events. Birthday parties and children's activities were always the most exciting to put together, as the finished product meant getting to see the wonder and excitement in children's eyes. We ask so much of children today. It is wonderful to see them just being kids.
Kim has volunteered at many children's projects in Canada, South America, South East Asia and Africa. She has raised funds, and has contributed numerous amounts of books to assist in global programs.
Our goal at Princess Parties Plus is simply to make every birthday a special memory that every child will remember forever.
Bridget

Bridget is on her way to receiving her Bachelor of Education at Brock University in hopes of later becoming a kindergarten teacher. She has a passion for working with children. Bridget has a background of acting, singing, and dancing, and has performed in many plays and musicals! She is energetic and outgoing, and has experience working with children through years of being a camp counsellor. Bridget's goal is to put a smile on every child's face as well as making them feel like true princesses.
Dina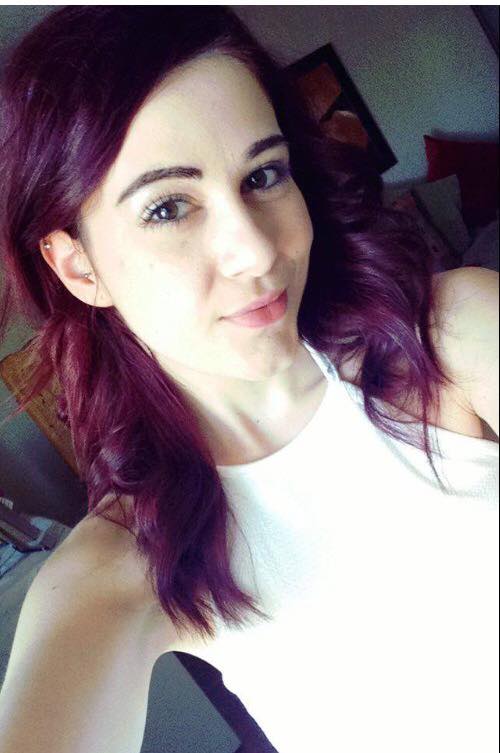 Dina is currently working as a CSR part time, and has just finished courses with Television Broadcasting at York University. Dina hopes to continue working to help and inspire as she continues her journey. Dina has a passion for people, and has an infinite amount of experience with children of all ages. Dina has a background of music, singing, theater and dancing. She has performed in many shows and at many events. She grew up in a big family filled with children, and has tons of experience entertaining children at birthday parties! She is passionate about making people happy. It is her goal to make sure that your child feels like the princess she is and deserves to be.
Cassie

Cassie is full of never ending energy. Her adventuresome spirit, her love of life, and her passion for children makes her an amazing children's entertainer. She's a kid herself, and vouches never to grow up. Her empathetic personality and skills allowed her to be a camp counselor at a camp for deaf children. Learning sign language is so important in her life, as she wants to be able to communicate to all children from all woks of life. In addition, life guarding, teaching children to swim and testing their abilities, provided Cassie with unending patience . Cassie, also a sports enthusiast, has worked with children teaching skateboarding, tricks and safety techniques. Children are motivated by her magnetic personality, and parents are entertained by her crazy sense of humour. Being part of the Princess Parties Plus team has made Cassie's wish come true, as she's one step closer to making children happy and bringing them the world of makebelieve, where imaginations can run free!
Desanka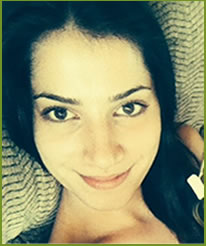 Desanka is currently finishing her BFA in Dance and her BA in History with the hopes of becoming a dance historian and ethnographer. She has a long history of singing and dancing, and has the intention of continuing with her musical education for Piano and Vocals. Having performed the Nutcracker, Don Quixote, Cinderella and numerous other famous Ballet numbers throughout her high school years, she was exposed to the world of make believe and has been teaching children to enter that world with their dancing. She has a compassionate and caring charm and her goal with Princess Parties Plus is to help princesses everywhere have a magical birthday.
Anna

Anna has worked with children for over ten years in babysitting, daycare and tutoring. With an Arts background from York University, and an ECE diploma from Humber, Anna loves the honesty children bring into our lives.

Anna works full time at a preschool childcare in Mississauga, and aspires to open up her own daycare one day. Birthday parties have always been a joy for Anna. In such a small amount of time, she can make a child feel so important and truly special.
Mysterion

Mysterion is Toronto's only mind reading magician for children. Expect the unexpected from this mad doctor, i.e. telepathy, ESP tests, spoon bending etc. You also never know what props he may use for example, a set of siamese turtles, or a two headed duckling to add to the fun. He also does a ton of balloon twisted animals after the show.

Seen on Breakfast Television, featured in Now Magazine, and the Toronto Star, Globe and more.
Pete

Pete has a way with people, especially when it comes to children. He has worked with children in a number of daycares and is currently working at an elementary school. His style of magic reaches the inner child in us all. His interest in magic started many years ago and he has since perfected his magical talent entertaining people of all ages. Magic Pete likes to involve the audience as much as he can to ensure that everyone leaves with not only great memories, but also a feeling of being magical themselves. He brings along with him, magical characters that adds a whimsical touch to the show.' He will perform elaborate mind-blowing tricks right in front of your very eyes.' With his captivating charm and sense of humour he is sure to entertain all members of your party.
Stephanie

Stephanie has wanted to be an Actor since she started watching Sailor Moon in the 4th grade. Way back in school at recess though, she was always up to something. She'd be rounding up the kids in the playground and having them act out her plays she was always writing. Creativity is her passion.' Uniqueness is her specialty. Fun is her middle name. Stephanie moved to Toronto from Moose Jaw, Saskatchewan, and graduated from Humber College in 2007, majoring in Film and TV. Her specialty since graduation has been voice over work. She is pretty much a big kid. She loves singing, cartoons, drawing, and painting. Anything involving creativity makes her happy. Stephanie attracts kids everywhere she goes.' They seem to know that she's just one of them.' She gets along with them all, and keeps them entertained playing games, dressing up, or just plain hanging out.' Stephanie definitely adds to any party, and even if its raining outside, she'll bring in the sunshine!!!!!
Petunia the Musical Magical Clown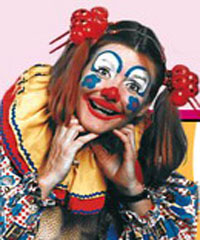 Petunia the Clown (AKA Bev Parrish), is a trained vocalist and actress with a musical theatre background. Bev has been performing as Petunia the Clown since 1993. She is a full time professional clown and is very well known in and around the Region of Peel. Petunia is a very bright and friendly looking clown. She is extremely good with children and very sensitive to different personality types. She entertains and adds lots of fun to a variety of festivities such as birthday parties, corporate events and festivals. Petunia specializes in music, magic, balloon creations and face-painting. Petunia also offers personalized singing telegrams and educational school shows.
Pamela
Pamela is an ACTRA member and has been in the acting industry for many years. She has always had a passion for preforming in the dramatic arts industry. Pamela is extremely energetic and outgoing. She loves working with children and takes every opportunity possible to be involved with them as much as possible. Putting a smile on each and every child's face is Pamela's goal. Pamela hopes to inspire each party member with a sense of individuality and creativity making it a day to remember!
Uncle Buck

Buck at such a young age has astounded audiences of all ages and genders. He is quite witty, and children as well as adults love his humour. His compassion for children and his genuine nature is noticed by children immediately. His gentle nature allows children who are typically quite shy to warm up quickly. His show includes great magic, animals, humour and lots of audience participation. Uncle Buck would be a great addition to your next event bringing lots of fun and excitement. A show your would not want to miss.
Jessica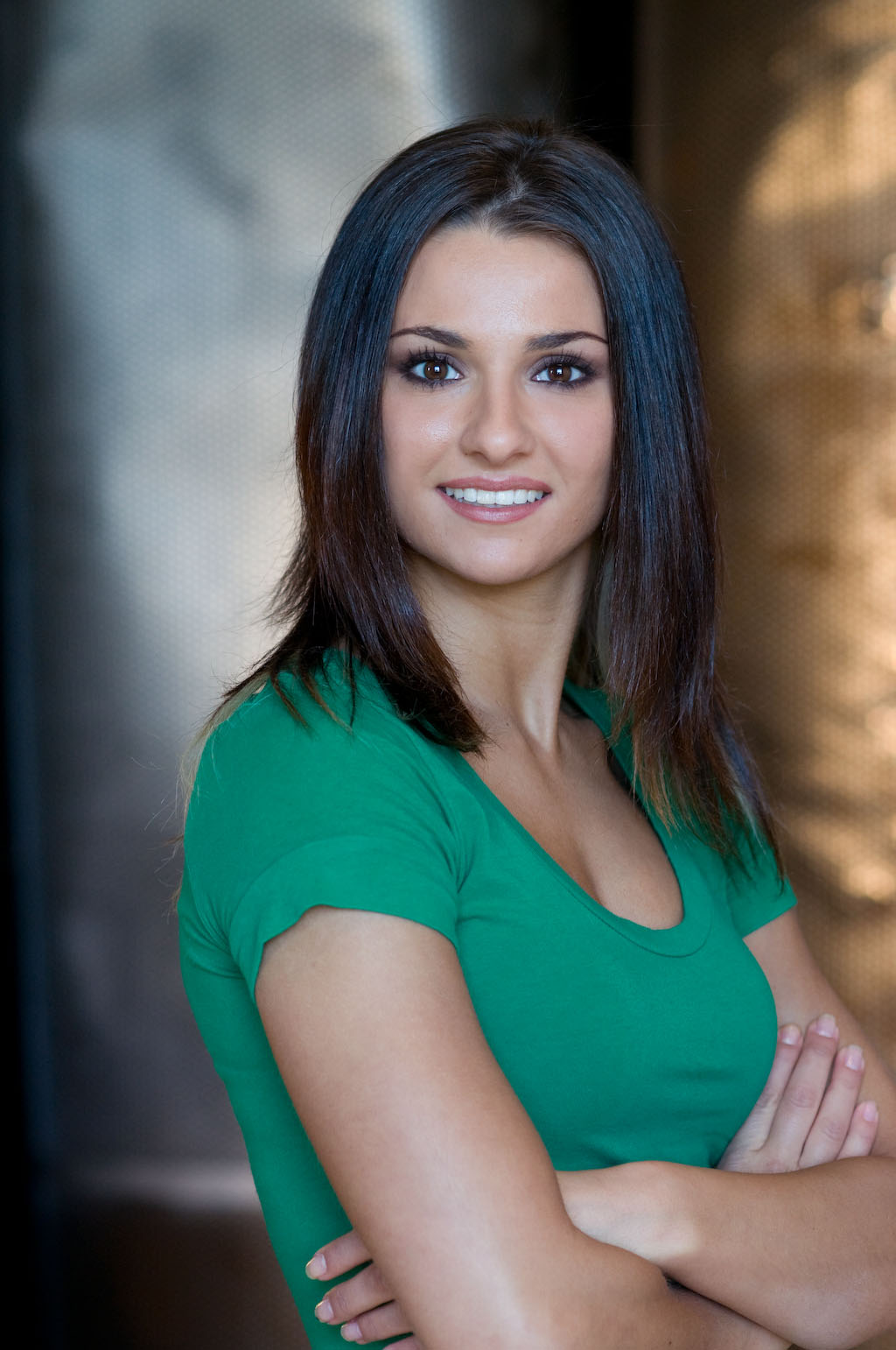 Receiving her BFA in Performance Arts Dance from Ryerson University, Jessica has been training and performing in many styles of dance since the age of 4. Shortly after getting her degree, Jessica trained and performed with Toronto s Afro/Brazilian and samba based dance company, The Dance Migration. Currently Jessica is part of the elite 40 as a dancer and artistic performer for LR Productions 2012-2013 season. Continuing her technical training in ballet, Jessica is also developing her own sound in song as a vocalist. Dancing on Much Music Best Dance Crew, along with music videos for song artists Hillary Duff and Feist, Jessica just finished shooting a pilot for a T.V series The Carlucci Brothers . Aspiring to be a triple threat professional, Jessica was truly born to perform.
She is a dance teacher and instructor for children of all ages and finds fulfillment in watching and being a part of young dancers learn and grow.